Shops destroyed in Poleglass, west Belfast, arson attack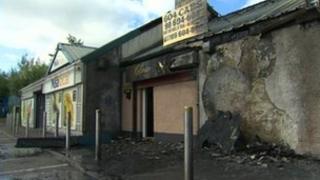 A fire which destroyed three adjoining shops on the outskirts of west Belfast is believed to have been started deliberately.
The blaze at the Colin Centre on Pembroke Loop Road was reported to police at about 04:00 BST on Tuesday.
The complex housed a chip shop, taxi office and a convenience store.
It is believed that rubbish had been stacked up at the front of the properties and then set alight. Police have appealed for witnesses.
Sinn Féin councillor Stephen Magennis said a number of people would lose their jobs as a result of the attack.
"There's going to be over 30 people made unemployed out of this," he said.
"Residents are up in arms about it because obviously they've been suffering with ongoing anti-social problems and this really has been the final straw.
"They're looking action taken, they want these people arrested and brought before the courts."