Flu vaccination programme targets NI children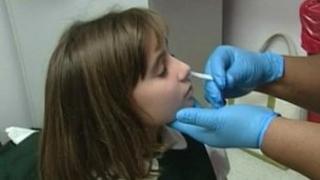 Flu vaccinations will be made available to more people in Northern Ireland.
The Public Health Agency has launched a programme aimed at vaccinating all children between the ages of two and 16.
The initiative will be introduced in age-specific stages over a number of years.
Children aged two and three years on 1 September 2013 and those in primary six will be targeted this year.
Most children will be offered the vaccination via a nasal spray that the Public Health Agency (PHA) describes as "quick and painless". This will provide an alternative to the existing flu jabs currently being offered.
Dr Richard Smithson, consultant in health protection at the PHA, said: "The nasal vaccine is being used because it has been shown to provide greater protection for children than the flu injection.
"This vaccine has been used in America now for several years and millions of doses have been given. We can therefore be very confident in knowing that it is a safe and effective vaccine."
It is hoped the initiative will encourage more people to get vaccinated and ultimately reduce the spread of the flu amongst children and young people in Northern Ireland.
The PHA said: "At-risk children of all ages should continue to receive the flu vaccine as they have done in previous years."
The extended vaccination programme will develop over a number of years and it eventually cover all children between the target ages.