Bangor man travels the world with Northern Ireland flag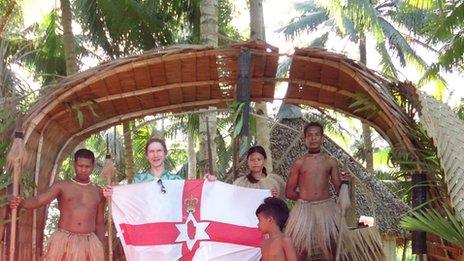 These photographs are more than holiday snaps.
The man in them, originally from Bangor, Northern Ireland, has made travelling his lifestyle for the last 10 years.
During the decade since he packed his bags, Jonny Blair has visited more than 70 countries, met tribespeople, worked on farms, fed hyenas and been white-water rafting.
And he has brought a reminder of home on his journey.
The red cross on a white background flutters from many a lamppost in Northern Ireland, and is often a divisive symbol between unionists and nationalists.
But the traveller carries his flag - the former flag of Northern Ireland - far and wide, and says it provokes conversations with people from around the world.
"For me it's the flag that the football team and golfers like Rory McIlroy and Graeme McDowell have used, so I'm quite proud of that and I do take it everywhere with me," he said.
Mr Blair spoke to Radio Ulster on a break between touring Ethiopia and visiting North Korea, from a temporary base in Hong Kong.
"I am being a bit greedy, but I would like to visit every country in the world," he said.
He started as a working student in the south of England, then a round-the-world trip stirred up his wanderlust.
This October will mark 10 years since he started out and he is keen to say that anyone can travel the world - if they are prepared for hard graft to pay for it.
Having worked "about 50 jobs" along the way, he is now settling into a career that suits the lifestyle he has carved out - travel writing.
He writes for various websites, runs a travel blog with photos of his flag around the world, and is currently developing a travel app for smartphones.
In fact, he recently completed its Belfast entry.
"Being a Northern Irishman like I do promote Northern Ireland a lot," Jonny said.
"I do tell people that you need to go and see the Giant's Causeway and Bushmills, so I won't hesitate to tell anyone that my favourite country is Northern Ireland."
But away from home, his favourite places are Bolivia and Uruguay in south America, and Taiwan and China in Asia.
Related Internet Links
The BBC is not responsible for the content of external sites.