Claire Hanna clarifies MLA seat bid letter after McDevitt resignation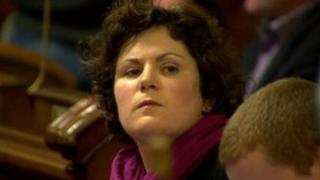 In the wake of Conall McDevitt's resignation, an SDLP councillor has clarified a letter she wrote expressing interest in a South Belfast MLA seat.
Claire Hanna said she sent the letter to 300 SDLP members last month, before she knew he was going to resign.
Ms Hanna said she was expressing interest in SDLP leader Alasdair McDonnell's MLA seat, which may become vacant due to double-jobbing rules.
She added she was "really upset" by the resignation of Mr McDevitt.
Ms Hanna said she considered him to be a "very good friend".
"I explicitly said in my letter that I would be seeking an nomination at a convention prompted by upcoming double-jobbing legislation," she told BBC Radio Ulster's Talkback programme.
"I consulted with Conall before I sent my letter last month, as I do consult with Conall on a lot of matters political, so I was not attempting to be furtive in any way."
'Battle'
BBC Northern Ireland's political editor, Mark Devenport, said the councillor's letter - which made it clear she was putting her name forward for any vacancy in the South Belfast constituency - came to light on Wednesday, around the same time as Mr McDevitt's resignation announcement.
He said: "There is a battle for a vacancy in South Belfast, but the battle which was underway was actually people positioning for what they thought would be a vacancy in a couple of years time, and that would not be Conall McDevitt's vacancy which took everyone by surprise, but Alasdair McDonnell moving on.
"Alasdair McDonnell is obviously MP for South Belfast, the feeling is that he wants to continue in Westminster, but a new law is going through which is going to ban double-jobbing."
The political editor added that as Ms Hanna had stated in her letter that the possibility of a co-option in South Belfast was unlikely to arise before 2015, it was obvious she was referring to Mr McDonnell's MLA seat.
"She was getting ready for a battle that she thought was going to be in two years, and then suddenly everything has been fast-forwarded because Conall McDevitt has fallen on his sword," he said.
Ms Hanna, a South Belfast councillor, has been a member of the party from the age of 16.
She is the daughter of former SDLP South Belfast MLA Carmel Hanna, who Mr McDevitt replaced in a co-option when she retired in 2010.