Mobile banking 'growing fast' in Northern Ireland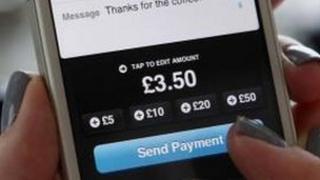 Mobile banking usage in Northern Ireland is rising dramatically, research has suggested.
According to one survey, there was a 50% increase in mobile banking usage among smartphone users last year.
Around 400 people took part in the research for Ulster Bank. It indicated that 92% use their mobile app to check their balance.
Brian Allen of Ulster Bank said: "Mobile banking usage is growing at a very fast pace."
About 25% of those surveyed said they use their mobile app to pay bills and 35% said that they use it to transfer money
Some 39% of respondents said that they accessed mobile banking through a website and 31% said they did so through an app.
As part of its latest investment, Ulster Bank customers can now make payments to other app users by inputting the recipient's mobile phone number. They can also use their Ulster Bank app to access cash at ATMs without their debit card.
Other enhancements include the ability to access an increased amount of account transaction information via their app, up to seven years' worth of transactions.
The survey of smartphone users was carried out at the end of July 2013.