Man is rescued from Cromwell Road flat fire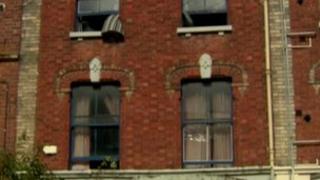 A man has been rescued from a fire in a first floor flat in south Belfast.
The fire service was alerted to the blaze on the Cromwell Road at about 04:00 BST on Sunday.
Three fire crews were involved in the rescue, which saw the man brought to safety from a window ledge by firefighters using a ladder.
Smoke alarms had alerted the man to the blaze. No-one else was in the flat at the time.
Fire station commander Michael Roberts said the man had a fortunate escape.
"He had made his way out onto a window ledge where he was rescued by fire and rescue service personnel using a ladder," Mr Roberts said.
"The fire itself was accidental there was nothing of a suspicious nature.
"However, had there not been a working smoke alarm within the property we could have been looking at a totally different set of circumstances."