Omagh bomb families challenge Theresa Villiers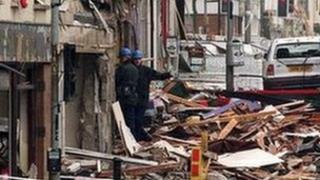 The families of some Omagh bomb victims have met the Northern Ireland secretary after she ruled out a public inquiry into the 1998 attack.
They have called for a cross-border public inquiry, amid allegations that the security services could have done more to prevent the Real IRA bomb.
But Ms Villiers has said there are insufficient grounds for a new inquiry.
Twenty-nine people, including a woman pregnant with twins, died when a dissident republican car bomb exploded.
Michael Gallagher, whose 21-year-old son Aidan died in the bomb attack in the County Tyrone town, said neither side gave any ground during a half hour meeting at Hillsborough Castle on Wednesday.
"There was no change of minds," he said. "She attempted to justify her decision and give her reasons but we still do not accept them.
"She gave us some detail but there was other information we wanted that she did not have at hand, which surprised us."
After Ms Villiers ruled out their request, the campaigners said they would seek a judicial review of her decision.
However, not all of the victims' families are involved in the public inquiry campaign.
Kevin Skelton who lost his wife, Mena, in the atrocity, said his family "went through hell" to get their lives back on track and did not want another inquiry.
A spokeswoman for the Northern Ireland Office (NIO) said: "This was a private meeting but the secretary of state was very happy to meet with the families and hear their concerns."