Woman loses bid to destroy childhood trauma files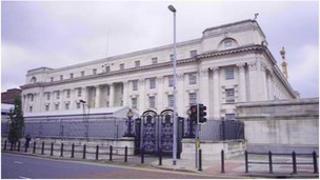 A woman has lost a legal bid to have files charting her traumatic childhood destroyed by the authorities.
Health trusts acted lawfully in retaining her records, a High Court judge has ruled.
The files show how she survived and "triumphed" against beatings, neglect and squalid living conditions.
The woman's application for a judicial review against two authorities over their right to keep and use files on her for up to 75 years was turned down.
The 38-year-old woman, who cannot be identified, turned her life around, the court was told.
She overcame the murder of a nun who mentored her, a period sleeping rough on the streets and the death of her sister to obtain a full university education and responsible job.
But after an against-the-odds success, she wants no reminders of her past, the court in Belfast heard on Thursday.
Neither does she have any desire to know how her mother let her down or to find out the identity of her father.
It was when she applied to foster her late sister's daughter that she realised the Western and Southern Health and Social Care Trusts were intent on accessing her past.
'Remarkable woman'
She challenged their right to keep and use records spanning a 13-year period when she was in children's homes and a training school.
The judge said her story was "a remarkable tale told of a remarkable woman".
Along with her sister, identified only as K, she was taken into care following the imprisonment of their mother and death of their grandmother.
The girls were separated when K was fostered. She herself rebelled and was sent to a training school.
Her life was transformed there under the tuition of a young nun who became a role-model, offering praise and encouragement in sports. But in 1990 the nun was killed after being caught up in an IRA bomb attack on the security forces.
Despite losing her mentor and a subsequent period of homelessness, the woman went on to complete her education, topping her university class and obtaining a postgraduate diploma.
She also raised a son and looked after K's daughter when her sister developed alcohol and mental health problems. K has since died.
The court heard how she put aside all personal ambitions, including the chance to study for a PhD, to ensure her niece received proper care.
"The applicant has survived the most adverse conditions imaginable and triumphed through the force of her will," the judge told the court.
"By any objective measurement she is a success. She is well-qualified, she has a good job and she is the head of a happy family which includes her niece, who is now her foster child."
Based on privacy rights, the judge had to determine whether it was proportionate for the trusts to keep her care records for 75 years.
She argued it was grossly excessive and that all documents relating to her as a "Looked After Child" should have been destroyed immediately after she left care.
Along with not wanting to retrieve her life story, the woman does not want other people, including her son, to have access to them.
She further contended that they should not be used to carry out checks on her because those who did not spend their early years in care would not face the same potential scrutiny.
But the trusts stated that the records were a "corporate memory" providing evidence of action and decisions.
They are vital to supporting current and future business, as well as awareness and understanding of history, policies and procedures, according to the authorities' case.