Family of five escapes injury in Lurgan arson attack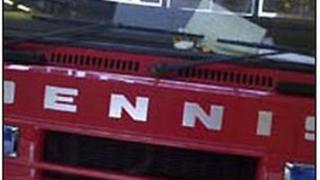 A family of five, including two teenage boys and a five-year-old girl, have escaped injury in an arson attack at their County Armagh home.
The children's 42-year-old mother and their 61-year-old grandfather were also in the house.
A bag of rubbish was set against the door of their home at Spelga Park, Lurgan, at about 04:00 BST on Saturday.
The fire brigade were called and officers led them to safety.
No-one was injured in the attack. A door was damaged and there was smoke damage to the inside of the house.
Police have appealed for anyone with information to come forward.