Half marathon runners frustrated by lack of loos and water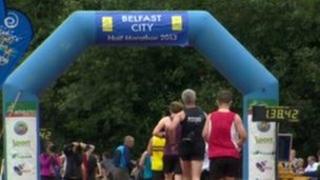 The organisers of Belfast's first ever half marathon have said they will take on board criticisms of the event.
Four thousand people took part in the 13-mile race on Sunday.
But some competitors complained that there was a shortage of water, toilets and medals.
Claire O'Reilly, of Belfast City Marathon Limited, said: "Like any event in the first year, there always are teething problems."
The marathon began at Belfast City Hall and finished at the Mary Peters Track in the south of the city.
One of those who took part, Belfast man Gary Johnston, contacted BBC Radio Ulster's Talkback programme to say he was disappointed with the event, as it was his first half marathon.
He said there had been a massive queue for about six toilets at the city hall for competitors.
"I thought: 'Somebody has misjudged this badly'.
"A friend of mine who was running got into the queue quite early and had to abandon it and start running," he said.
"About two miles into the race he had to stop to go to the toilet somewhere else. It was kind of ridiculous.
"It is always good to be able to go to the loo before you leave (the start line). Six portaloos is taking the mickey a little bit for almost 4,000 competitors."
He said the water situation was also a problem
"The first stop was after about three miles round. The front runners got cups that were already filled, but when we came along they were filling the water as and when you came up.
"So a lot of people had to stop and then start again.
"There was a big gap between it and the next water stop. I think it was nearly six and a half miles later.
"It seemed a bit muddled up, a bit haphazard."
Gary was also one of the 150 people who did not receive a medal at the end of the race.
"We were just looking for a nice wee photo opportunity, which we might not get again," he said.
Ms O'Reilly, whose company runs both the half and full marathon, said they had been disheartened by the comments but said that they had received quite a lot of positive emails.
However, she said they would take any criticisms on board for next year.
Regarding the water situation, she said it was normal to only have three water stations along the route, but acknowledged there had been queues.
"For next year, when we are looking at the route, we will look at the water stations and try to improve that for next year," she said.
Ms O'Reilly said they had also been disappointed that there were not enough medals.
She said they had ordered 3,000 medals and later placed a second order, but these had not arrived as the medals are made in China.
"The medals will arrive this week and we will get them out in the post as soon as possible and we can only apologise," she said.
She added: "There were 4,000 people out on a Sunday morning getting fit and raising money for charity and this was the main reason why we put on this event."