CBI Northern Ireland in call to reduce parades and protests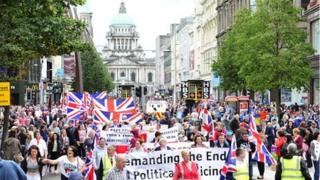 Business leaders have urged politicians to help retailers by reducing the number of parades and protests In Northern Ireland.
The Confederation of British Industry (CBI) made the call after thousands took part in a loyalist parade through Belfast city centre on Saturday.
The march started an hour after the Parades Commission had ruled it should, which meant lunchtime trade in the city was adversely affected.
It passed off without major incident.
About 1,000 protesters marched through the city centre, but by the time the parade had reached the Shankill/Woodvale areas of the city, the number had risen to about 3,000, according to police estimates.
The parade was organised by a group calling itself Loyal Peaceful Protesters.
It was in protest against the Parades Commission and the ongoing dispute over the flying of the union flag at Belfast City Hall.
'Frightened'
Mark Shortt, who runs an eye clinic in the city centre, said Saturday's march was "quite peaceful, as far as I could see".
But he added that many of his clients travel from areas such as Londonderry, Donegal, Enniskillen and Newry to the clinic and could be deterred by parades and protests.
"They don't know Belfast, they don't know that it's likely to be safe and it's a safe place to come and spend your money.
"When Belfast is buzzing there is no better place, don't get me wrong, but when they don't know and don't have that information, they'll be frightened to come."
Loyalists have been staging street protests since 3 December last year, when councillors voted to restrict the number of days the flag is flown from the city hall.
Inter-party political talks, aimed at resolving disputes over flags, parades and the legacy of the Troubles, began in Belfast last week.
The talks are chaired by the American diplomat Richard Haass.
Mr Haass met business representatives last Thursday, and it is understood they told him that loyalist flag protests were a contributory factor in Belfast shops losing up to £50m between December 2012 and July 2013.