Easter Rising: Trinity College Dublin launches letters appeal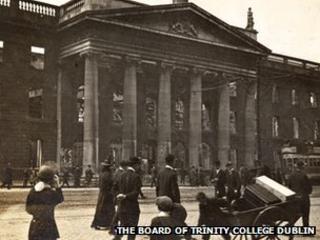 A leading Irish university has launched an ambitious project aimed at understanding more about one of the most tumultuous periods in the country's history.
Trinity College Dublin is gathering letters and photographs from the year spanning the 1916 Easter Rising to build a new digital archive on ordinary life in the period.
It has appealed to the public - north and south of the border - for help by uploading old family letters and photographs to the archive.
The Letters of 1916: Creating History already includes letters from various public Irish institutions like the National Library of Ireland, the National Archives of Ireland, Trinity College itself and University College Dublin.
Dr Susan Schreibman, an associate professor at Trinity and the project's principal investigator, said: "When people write history it's the grand narrative, the big events, the important people, but people were living very ordinary lives through these extraordinary times.
"As we approach the centenary of the Easter Rising we want to try to get a sense of how ordinary people coped with one of the most disruptive periods in contemporary Irish history - from loved ones serving in the British Army and Dublin itself becoming a theatre of war, to the business of state carried out by government."
'Interesting questions'
The Easter Rising was an armed insurrection by republicans who wanted to end British rule and establish an independent Irish republic.
It began on Easter Monday, 24 April 1916, but ended after just six days of fighting, and most of its leaders were executed.
Dr Schreibman added: "We don't know what people knew, or thought about the rising, and that is one of the very interesting questions.
"Was there a lot of activity by the public, was it mostly the people we know who participated in the rising, were other people writing about it, did it die out a month after the executions? We just have no idea and you can't find this in any history books."
The project is looking for letters only from the period 1 November, 1915, to 31 October, 1916.
"We are somewhat content agnostic so as long as it's in our collection period - 1 November, 1915, to 31 October, 1916, - and it's something about Ireland, then at that point it doesn't matter what it is," said Dr Schreibman.
"All the letters are important. Of course people get very interested when it's a real gem that has to do with some people from the rising - people are still very interested in that - but I think the more ordinary also show just what life was like.
"It is these personal stories of hardship and love, great loss and great strength, which tend to be lost in traditional historical accounts.
"This project is reclaiming these lives for our generation and generations to come, allowing their stories to be heard alongside those that we are more familiar with."
As well as contributing material, the public is also being asked to get involved by transcribing some of the letters already in the archive that is due to be launched in 2016.
The Letters of 1916: Creating History is the first crowd-sourced humanities project in Ireland, where ideas, content and services are gathered from a large group of people, especially online.
Wealth of material
The team will also hold public sessions, where people can come to a venue and offer up their material and get a hands-on experience of scanning, transcribing and creating websites.
Their first meeting is in Dublin on Friday, 27 September, and they hope to hold one or two similar events in Northern Ireland.
Dr Schreibman's main concern is the possible wealth of material they could have to deal with.
"There is a danger of it sprawling and getting out of control, which is why we're very strict about only letters, and only this one year.
"But even with what we've chosen, it could be enormous. We have identified thousands of letters already and we've only begun to deal with a few of the archives in Dublin.
"I didn't quite realise the amount of letters there were when I started the project, but that there are so many makes me realise that they were very precious to people, precious enough that they've saved them and given them to institutions.
"Our next phase is to reach out beyond these institutions, to public libraries, to local history societies.
"There are probably collections that are relevant that are outside of Ireland as well.
"Part of this is also to allow people who are interested in history to actually get involved in that process as well.
"It's not just for the researchers, you too can be part of this research process. People become engaged when they are working on some projects that have some relevance to them, and part of the reason for 1916 is exactly that.
"It will be a lot of work but I think it will be interesting and create such a different picture... and these letters are so fragile. Often people die and they get thrown away, they get lost, and this is another way to preserve them.
"It's not the physical object but at least the intellectual content is somewhere that can be preserved.
"A lot of people don't want to give away their objects but they wanted people to know the stories of their grandfathers, great uncles, great grandmothers, whatever it was."