Liam Adams trial: Court hears police transcripts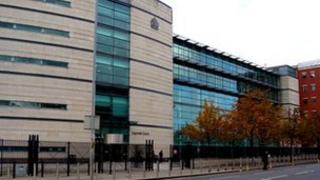 A court in Belfast has heard firm denials from a man accused of raping and indecently assaulting his daughter more than 30 years ago.
Liam Adams, 58, from Bernagh Drive, Belfast, faces ten charges of assaulting his daughter Áine in the late 70s and early 80s.
Earlier the court heard from another daughter who claims her father confessed to abusing Áine.
Liam Adams did not give evidence in court on Tuesday.
He listened while the jury heard transcripts of three interviews he gave to detectives after his arrest in February 2007.
The court heard that the allegations made by his daughter Áine were put to him.
So was the claim that his brother, the former West Belfast MP Gerry Adams, his ex-wife Sally and Áine had confronted him in Donegal in 1987. He rejected all of it.
He told a detective: "I am denying all these allegations and I'm pleading not guilty."
Earlier Belfast Crown Court heard differing versions of an alleged confession by Liam Adams.
Sinead Rosbotham, Áine's sister, said her father confessed to her at a meeting at Christmas in 2002.
The defence claim Mrs Rosbotham did not hear any such confession from her father.
"Well I know he did, and he knows he did," Ms Rosbotham said in response.
She claimed her father had confessed to her during a "really tense, really awkward, really horrible" confrontation in an aunt's house at Christmas 2002.
Mrs Rosbotham earlier told the court, how "curiosity" eventually led her to ask her father: "Did you abuse my sister?"
She told a prosecuting lawyer that when she asked her question: "Liam was like horrified, shocked that I came out with it. He said 'yeah that happened but that's between me and Áine'."
The court heard that he allegedly added that it had nothing to do with her and him and that he "and Áine will face our demons in our own time... me and Áine will face each other in our own time."
She agreed that what her father allegedly said was "a startling revelation", but however, accepted that they parted on some understanding that they would meet up again, although nothing was "solid or definite".
Mrs Rosbotham met her father several more times in 2003 before breaking off contact.
She, and later her husband, also accepted they had even been to his home for dinner.
However, when presented with a photograph of a smiling father and daughter sharing a chair together, Mrs Rosbotham denied she was 'relaxed' in the snap.
"I look like I am relaxed.... a Kodak moment.... I don't feel relaxed now.... but if you ask me to smile I could," she said.
Defence barristers painted a different picture of those meetings.
They argued they were friendly convivial family gatherings.
They said Mrs Rosbotham's behaviour was inconsistent with a woman who had heard her father confess to raping her sister.
A defence barrister said: "If your father had admitted this, you wouldn't have let him over your doorstep."
Mrs Rosbotham replied: "In hindsight I should have done that. But I needed answers for myself. That doesn't mean I don't believe my sister."
The court also head from Mrs Rosbotham's husband, Sean, who said he was also present at the confrontation and that he "took it he (Liam Adams) admitted it. He did not deny it".
During questioning by a defence lawyer, Mr Rosbotham agreed Adams, "did not admit anything", he however, repeated: "He certainly did not deny it".
The trial continues.