Theatre crew arrested after bullets found in costume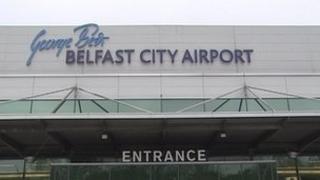 The cast and crew of an anti-war theatre production have been caught up in a real-life drama when four were arrested for having live ammunition.
They were detained at a Belfast airport on Monday, after 12 bullets were found sewn into one of the costumes used in the show, The Conquest of Happiness.
Four production members, including the co-creator of the show Emma Jordan, were taken to a police station and questioned for several hours.
They were then released without charge.
The cast and crew were travelling from Northern Ireland to Bosnia when staff at Belfast City Airport made the discovery.
Unaware
The bullets were found in a 1970s-era denim jacket that the team had recently bought from an online auction site.
They said they were unaware that live ammunition had been sewn into the garment.
The jacket had been placed in a suitcase in the aircraft hold, along with their other costumes.
Ms Jordan said: "The four of us were arrested, taken to Musgrave (police station) and questioned.
"The police had to get to the bottom of it. The bullets were sewn individually into the lining of the jacket which is why we hadn't detected them. It was quite a shocking incident for us all.
"The irony of us producing a play that was deeply anti-war in its aim, wasn't lost on us."
The Conquest of Happiness is an out-door production focusing on conflicts of the 20th century, including Vietnam, Bosnia, the Middle East, Rwanda and Northern Ireland.
It includes a re-enactment of scenes from Bloody Sunday, when 14 people were shot and killed by soldiers during a civil rights march through Londonderry.
'Life imitated art'
The show's world premiere was staged in Derry last week, as part of the UK City of Culture celebrations.
The production team have embarked on a European tour, and were on their way to Sarajevo when life imitated art a little too closely.
The Conquest of Happiness draws its inspiration from world renowned pacifist Bertrand Russell who penned the book of the same name in 1930.