Solicitor's practice manager admits £40,000 mortgage fraud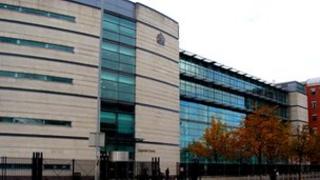 A solicitor's practice manager has admitted £40,000 of mortgage fraud.
Doreen Ward pleaded guilty at Belfast Crown Court to two counts of committing fraud by abuse of position on a date between 16 April and 1 August 2007.
Ward, 55, from Farmley Crescent in Newtownabbey, County Antrim, was practice manager for Kearney Sefton Solicitors in Belfast.
She was released on continuing bail and will be sentenced next month after probation reports are compiled.
The particulars of the offences indicate that Ward fraudulently falsified a document in connection with a remortgage of a property in Glengormley, Country Antrim, by omitting a second registered charge on the property that caused her to be refunded £40,356.54.
By doing so Ward put Kearney Sefton Solicitors "in jeopardy of a further financial loss under their Professional Indemnity Insurance in the sum of £18,000".
A further charge of fraud by abuse of position on dates between August 2009 and 15 October 2010 outlined how Ward fraudulently obtained cheques that were then lodged into her account.
Following the guilty pleas, the prosecution asked for 26 other similar charges to be "left on the books".