Ulidia Integrated College pupils undergo blood tests after incident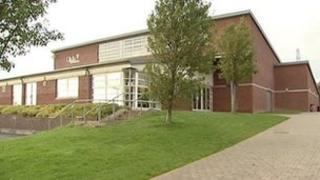 A County Antrim school has confirmed that blood tests have been carried out on a number of its pupils following an incident at Ulidia Integrated College.
Five students at the Carrickfergus secondary school received prick wounds from a diabetic blood sampling device.
It is believed that two students used the device on the five other pupils.
The school authorities were medically advised there was "minimal risk" to the students but parents were told to take their children to a GP as a precaution.
It happened last Thursday but school authorities were unable to access medical advice until the next morning.
A spokesperson for Ulidia said the school is unaware of the specific tests carried out on the students.
The seven pupils involved in the incident ranged in age from 14 to 16.
The school said it has spoken to all seven and was satisfied that "it wasn't malicious, just thoughtless and without thinking of the possible consequences".
In a statement, Northern Ireland's Public Health Agency (PHA) said it cannot comment on individual cases.
"We have been notified of a reported sharps injury at Ulidia Integrated School.
"The PHA worked together with the GP practice involved ensuring this was managed in accordance with national guidelines and that appropriate health protection actions were taken."