£18m Housing Executive contracts overpayment 'resolved'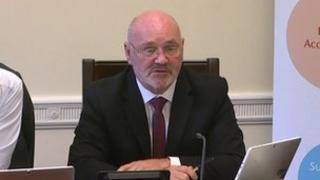 A Stormont committee has heard that an alleged £18m overpayment by the Housing Executive has been resolved.
Social development committee chairman, Alex Maskey, made the claim.
In June, Minister Nelson McCausland said it was a "scandal" that the housing body had overpaid the £18m.
He told the committee on Thursday an attempt was "being made now, and I think we are well on our way to the recovery of monies that have been overpaid".
Mr Maskey said he had heard "through the grapevine" that the overpayments, which Mr McCausland claimed had been paid to four firms for planned maintenance of homes, had been resolved.
He also said he understood that no money had actually been misused or misspent.
TUV leader Jim Allister said that as things stood on the day, he had evidence showing these contractors had actually been underpaid.
"So when the minister comes here today and talks about recovery of the £18m, you're sitting with the knowledge, that, as things stand today, there's nothing to recover, there's underpayment to contractors," he said.
'Estimated figure'
The Northern Ireland Housing Executive (NIHE) chief executive, Dr John McPeake, said he did not accept this "at all" as this was "still a work in progress".
He said it was clear the estimates of the planned maintenance contracts would fall as they were "refined".
The minister also defended the figure he announced to the assembly earlier in the year.
"I was given a figure of £18m as an estimated figure by the chair of the Housing Executive," he said.
"That was the figure I reported, I felt it was right to report it and it was at the time caveated with the word that it was an 'estimate'."
Questioned by Mr Allister, Mr McCausland refused to be drawn on whether he would apologise or "consider his position" if the £18m figure was proven to be incorrect.