Northern Ireland economy 'can be helped by Nama'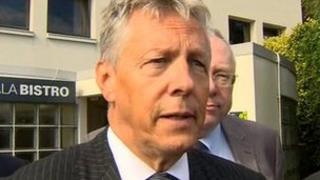 Ireland's Finance Minister Michael Noonan has said his government is re-examining how the Northern Ireland economy could be helped by the National Asset Management Agency (Nama).
Nama, the Republic of Ireland's so-called 'bad bank', controls about £1bn of property loans originally made by Dublin-based banks to NI customers.
Last week, First Minister Peter Robinson was critical of Nama.
He claimed it was "inhibiting" economic growth by holding onto properties.
However, after talks with Mr Robinson at Stormont, Mr Noonan said they were looking at "new thinking" which could benefit economies, north and south of the Irish border.
Mr Noonan said: "We are coming to a point where the economy is growing again, where property prices particularly in Dublin are increasing.
"We are relooking at the policy to see can we advance sales in a manner which drives the economy better and that new thinking would apply to Belfast and Dublin and indeed portfolios abroad."
Mr Noonan said his conversations with Mr Robinson were about agreeing a way forward and the Irish government would keep Stormont "fully informed".
He said he did not view Mr Robinson as being critical of Nama as an organisation.
Nama has largely avoided political criticism in Northern Ireland.
Former finance minister Sammy Wilson regularly praised the agency and on one occasion said "without Nama we might have had a catastrophe".
The agency has also made new loans to Northern Ireland developers of more than £120m, including a major housing scheme in Dundonald.