Blackout killer driver's sentence 'too lenient', says DPP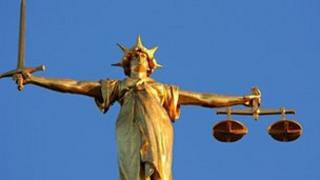 A woman who blacked out while driving and killed a young mother-of-two in a car crash should receive a tougher sentence, Northern Ireland's Director of Public Prosecutions has said.
Barra McGrory QC, told the Court of Appeal that the 15-month term imposed on Mary McLaughlin was unduly lenient.
In July, McLaughlin was ordered to serve five months in jail and the rest of her sentence on supervised licence.
She was also banned from driving for 10 years.
The 47-year-old, from Dillons Avenue, Newtownabbey, County Antrim, was convicted of causing the death of Rebecca McManus, 27, by dangerous driving in October 2010.
She was also found guilty of causing grievous bodily injury to four other people in the car she collided with at a motorway roundabout.
McLaughlin suffered a blackout at the wheel of her car at the M5 roundabout in Newtownabbey and crashed into another vehicle carrying five friends from the nearby Northern Regional College.
Rebecca McManus was in a back seat and was killed instantly. The others suffered serious injuries.
Warning signs
Witnesses to the crash said McLaughlin was "slumped" behind the wheel with her eyes closed and "drooling".
It was the prosecution case that despite being issued with a three-year licence, she knew it was dangerous for her to drive but carried on regardless.
McLaughlin, a mother-of-three, told the court that she would never have driven if she did not feel safe to do so.
She claimed that despite suffering from repeated blackouts since 2004, a medical condition that resulted in her being medically retired from her finance job at the Northern Trust, she had come to know the warning signs of an oncoming attack.
In court on Friday, Mr McGrory said that her sentence should be increased.
He pointed to misinformation she gave about her condition as showing higher culpability.
It was also claimed there was no apparent justification for reducing the sentence down to 15 months.
Following further submissions the three appeal judges adjourned the application until next week.