Sinn Fein special adviser paid thousands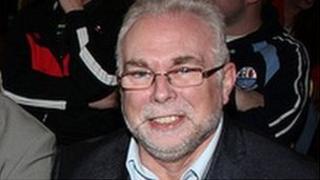 A Sinn Fein special adviser has been paid thousands of pounds in compensation after losing his job as a result of a new law banning anyone with a serious offence holding such a post.
Former IRA prisoner Paul Kavanagh stopped receiving payment from the Office of the First and Deputy First Minister (OFMDFM) earlier this month.
He had been an adviser to Deputy First Minister Martin McGuinness.
One political source estimated the pay-off could be as much as £60,000.
OFMDFM will not discuss individual personnel arrangements.
Currently, Stormont special advisers on the higher of two pay bands earn between £58,000 and £91,000 per year, and the amount Mr Kavanagh was entitled to would be linked to his previous salary.
Whatever the precise amount, a Sinn Fein source said the payment would remain untouched until Mr Kavanagh exhausted the appeal process.
'Limbo position'
Earlier this month Mr Kavanagh's wife, MEP Martina Anderson, said that, even though he had been sacked, her husband would continue to work for the peace process.
Sinn Fein sources said Mr Kavanagh is continuing to work as a party adviser despite what they describe as his current "limbo" position.
Traditional Unionist Voice leader Jim Allister, who drew up the law which changed the employment rules for special advisers, said he took satisfaction that the Sinn Fein aide was no longer getting a public salary.
Interviewed for the BBC's Inside Politics programme, Mr Allister said the coming months would determine whether Sinn Fein's pledge to challenge the law in the courts amounted to anything more than what he called "huff and puff".