Northerners could vote in Irish presidential election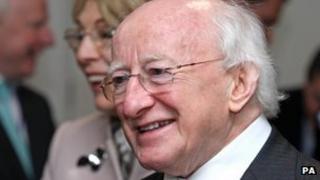 Irish passport holders in Northern Ireland may get the chance to cast their vote for the next Irish President.
The constitutional convention has recommended that Irish people living abroad and in the north should be eligible to vote.
The Irish government now has to make a decision on the proposal.
The SDLP's Alban Maginness said people living in Northern Ireland had a legitimate claim to vote.
"This would give northerners a real opportunity to engage in politics at a national level," he said.
"Ireland is one of just four of the EU's 28 member states that do not let their citizens abroad vote in parliamentary elections at home.
"The Irish Government should rectify this situation particularly given that Irish emigration is at an all-time high.
"The President of Ireland, under the constitution, is supposed to represent the Irish nation and the Irish nation, of course, is a much bigger concept than the 26 counties of Ireland."
Currently, Irish emigrants do not have the right to vote in the Irish Parliament or presidential elections.
At the end of a two-day session in north Dublin, members of the constitutional convention voted overwhelmingly in favour of allowing Irish citizens resident outside the state, including those living in Northern Ireland, to cast a ballot.
Chairman
It also assessed the potential impacts of the proposed changes and other relevant electoral issues that emerged.
More than 120 countries have provisions allowing emigrants to cast a ballot in national elections.
The convention on the constitution is a forum of 100 people, representative of Irish society and parliamentarians from the island of Ireland, with an independent chairman.
It was established to consider and make recommendations on certain topics as possible future amendments to the constitution.