New-look Irish passport unveiled featuring iconic images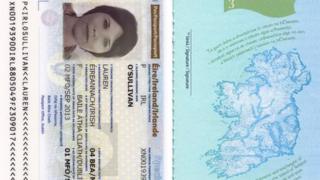 A redesigned Irish passport has been launched featuring iconic Irish landmarks.
Dublin's Aviva Stadium and the Samuel Beckett Bridge are among the images on the new-look passport.
There are no images from Northern Ireland but it features Ulster-Scots poetry and an all-Ireland map.
It is understood there was discussion within the Irish Department of Foreign Affairs about including Northern Ireland images.
Landmarks such as Croagh Patrick, Kylemore Abbey and Croke Park, the Cliffs of Moher and the Rock of Cashel, are depicted as watermarks on the new passport.
Irish music and dance and gaelic games also feature.
Foreign Affairs Minister Eamon Gilmore unveiled the new passport in Dublin, describing the symbols in the document as "all island images".
Mr Gilmore said: "We have combined the latest security technology with selected imagery in order to produce a passport which represents Ireland - our culture, our history, and our people.
"The images used range from a stunning perspective of the Cliffs of Moher to the new landscape along the river Liffey, with the Dublin Convention Centre to the foreground and the Custom House and Liberty Hall peering through the harp strings of the Samuel Beckett Bridge.
"Images of Croagh Patrick and the Rock of Cashel feature alongside drawings depicting Irish music and dance and Gaelic games."
Mr Gilmore said the map on the new-look passport is a topographical map, not a political one.
A department spokesman added that the map "reflects the all-island basis for citizenship".
"So too, does the inclusion of the text of Article 2 of the Constitution, which appears alternately in Irish and in English, throughout the new passport booklet," it added.
"The emphasis in the images in the new passport booklet is on citizenship not territoriality."
The passport also features poems from three of Ireland's poets: Nuala ní Dhomhnaill, who wrote in Irish, William Butler Yeats, who wrote in English and James Orr, one of the weaver poets from County Antrim, who wrote in Ulster Scots.
Citizens in Northern Ireland can opt for an Irish passport.
More than 630,000 Irish passports were issued in 2012, of which more than 40,000 applications were received through the Northern Ireland passport express channel.
All Irish passports issued from 3 October will have the new design.