Seanad vote: Threat to 'northern input in southern politics'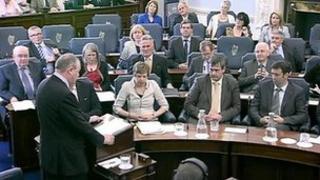 Voters in the Republic of Ireland are going to the polls on Friday to decide whether or not to abolish the upper house of the Irish parliament.
Seanad Éireann (Irish senate) has been in existence for more than 90 years.
The current Irish government wants to abolish it, saying it costs too much to run and is no longer necessary in the Irish democratic process.
But opponents want it retained and reformed, saying it plays an essential role in holding governments to account.
Those opponents include three high-profile former senators from Northern Ireland; ex-SDLP MLA Seamus Mallon, former NI Ombudsman Maurice Hayes and the retired doctor John Robb.
Minority communities
All three men were appointed at the request of various Irish prime ministers, who have the personal power to nominate 11 of the Seanad's 60 senators.
They provided a rare northern perspective in an institution that from its inception, aimed to give a voice to minority communities - a platform to diverse political interests that were not widely represented in the parliament's lower house, the Dáil.
Seanad Éireann was established in 1922, just months after the foundation of what was then known as the Irish Free State.
Despite representing an overwhelmingly Catholic population, Protestant senators made up one third of the membership of the very first Seanad, counting the poet William Butler Yeats among their number.
But in the nine decades that followed, few northern Protestants took up the offer of a seat in the Seanad.
Emotional memory
John Robb, a Presbyterian-born surgeon from County Down, was one of the few. He was appointed for three consecutive terms, serving from 1982 to 1989.
As the son of a First World War medic who had tended casualties at the Battle of the Somme, he has an emotional memory of the first day he wore a poppy in the Seanad.
He said it was a move he had considered for "two or three years" before deciding to go ahead.
"I was frightened at first that I was going to in some way offend, which I didn't want to do," Mr Robb said.
"I had the thing well concealed in my breast pocket. I told the speaker of the senate that I would be having something to say before the procedures started.
"When I got my chance I took my poppy out of my pocket, put it into my lapel and said why I was wearing it - that there were Irishmen from south as well as north who had gone as volunteers in the British forces to France in the First World War and more of them in the Second World War. So I thought it was a point worth making.
"I walked over the chairman. I offered it to him - I didn't present it to him - and I put it down and turned around. The place stood up and clapped."
His voice cracking with emotion, Mr Robb recalls that when he got back to his seat and looked back at the Seanad chairman, he had picked up the poppy and placed it in his own lapel.
More than 20 years on from that moment, the retired surgeon worries that the abolition of the Seanad could "exclude the possibility of northern input into southern politics".
"I think it is very important to sustain that link, and it will not be sustained at political level, except by party politics blowing across the so-called border."
Seamus Mallon, a former deputy first minister of Northern Ireland and ex-deputy leader of the SDLP, served as a senator for just under a year in 1982.
He said northern representation in the Seanad was "very valuable" but believes that it should have been from a "broader base".
"If you're simply going to have input from people in the mainstream party politics then it defeats its own purpose."
'Huge reluctance'
Asked if the Republic of Ireland's government should have done more to involve northerners from the unionist tradition, Mr Mallon said he believes that attempts were made.
"There has been a huge reluctance on unionists to take nominations to the senate, that's a fact of life," he said.
Other notable former senators from north of the border included the peace activist Gordon Wilson and writer Sam McAughtry.
Mr Wilson lost his daughter in the IRA Poppy Day bombing in 1987, while Mr McAughtry, originally from the loyalist Tiger's Bay area of Belfast, was a trade unionist and author who founded the Peace Train movement.
The Belfast-born former senator Martin McAleese, husband of the former Irish President Mary McAleese, was another Seanad member. He was noted for forging links with various strands of unionism, including members of the Orange Order and loyalist paramilitaries.
Last year, he was involved in inviting Drew Nelson, Secretary of the Grand Orange Lodge of Ireland, to address the Seanad.
Mr Nelson was the first senior member of the Orange Order to speak in the House and the Seanad chairman hailed it as a "historic day" and a "mark of progress in relations between Britain and Ireland".
The Seanad's powers and functions were originally modelled on the British House of Lords, providing a bicameral system of government where the upper house scrutinises and amends bills that originate mainly in the lower house.
Ineffective
It cannot block legislation passed by the Dáil but it can delay it by up to three months. However, it has not used this power since 1964.
Abolitionists say that the Seanad has proved ineffective in its watchdog role and getting rid of it would save the state 20m euros (£16.7m) per year.
The Fine Gael/Labour coalition government is leading the Yes campaign for abolition, while Fianna Fáil is advocating a no vote.
County Down native Maurice Hayes, who served 10 years as a senator from 1997 to 2007, argues the Seanad has played a vital role in amending legislation.
"It might not have stopped a bill but it has certainly improved a lot of bills," he said.
Mr Hayes added that while it was "hard to defend the senate in its present form", something was needed to "keep a curb" on government ministers.
"The Dáil is dominated by whichever government is in power, and there's no check on them really at all."
'Independents'
Mr Hayes said Fine Gael's recent treatment of Dáil member Lucinda Creighton, who lost her ministerial post in July after defying the party leadership over the abortion bill, was evidence that independent opinions would be defeated by the whip system.
He added that during his time as a senator he voted against his nominating prime minister, Bertie Ahern, on a number of occasions.
"They knew quite well and accepted that I wasn't to be whipped," Mr Hayes said.
Seamus Mallon echoed that sentiment, saying he "didn't go to the senate to take up a party whip".
"John Robb and myself are very clear about this, we went there as independents, we spoke as independents and we voted as independents," he said.
Mr Mallon said the Seanad offered "a new layer of both academic and technical and political expertise" in political debate in Ireland. He would have like to see more people "from different walks of life" getting the opportunity to become senators.
However, he is not hopeful that the electorate the Republic will agree with him in Friday's referendum.
"I'm afraid it will be passed and I'm afraid the Seanad will become a historical memory."