Jaroslaw Andrykiewicz: Police call off search for missing fisherman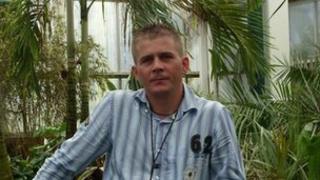 Police searching for a 38-year-old man who went missing during a fishing trip on the north coast last month have called off the search operation.
Jaroslaw Andrykiewicz was swept out to sea while fishing at Ramore Head in Portrush on 14 September.
The Polish national had lived in Northern Ireland for six years. He worked as a supervisor in a vegetable production company in County Armagh.
Several members of his family had travelled to NI during the search.
Chair of Coleraine Policing and Community Safety Partnership (PCSP), Councillor Sam Cole has expressed his deepest sympathies to the missing man's relatives.
Mr Cole said: "This is a very unfortunate and tragic event which has caused immense distress to this young man's family.
"The incident acts as a stark reminder for everyone to exercise extreme caution when taking part in any activities in close proximity to the sea or indeed any waterways within the borough."
Mr Andrykiewicz, a father of one, was fishing with two Polish friends on rocks when he disappeared under the water.
Shortly after his disappearance, his mother and brother arrived in Moy, County Tyrone, where they were given accommodation and support by members of the Polish community in the area.
They also received help and support from Mr Andrykiewicz's employers, Gilfresh Produce, in Loughall and from the NI Honorary Polish Consul, Jerome Mullen.