More than 100 businesses for NI investment conference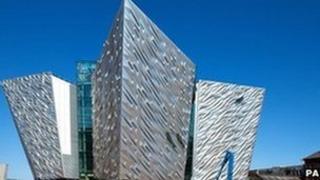 The Office of First and Deputy First Minister has said more than 100 businesses will be represented at next week's two-day investment conference follow-up to the G8 summit.
Executives from the US, France, China, Japan and Canada will attend the event.
The conference is being billed as a showcase for Northern Ireland as an investment location to overseas companies.
The conference takes place at Titanic Belfast on 10 and 11 October.
It is the first investment conference in Northern Ireland since 2008.
"The conference will give us the opportunity to say loud and clear to over 100 potential investors that Northern Ireland is a great place in which to invest and to grow your business," said First Minister Peter Robinson in a statement.
Deputy First Minister Martin McGuinness added: "We aim to attract potential investors as well as existing investors.
"It is equally important for our economic development to secure re-investment from companies that have already committed to locating here as well as encouraging new investors."