Ligoniel foal rescued after mother found shot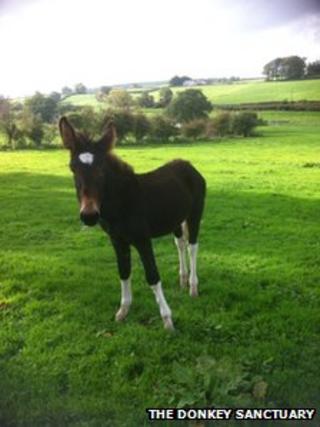 A young mule has been rescued after she was found by police in Northern Ireland beside the body of her mother who had been shot in the head.
Police were called to the Ligoniel mountains after a member of the public reported seeing a horse in distress.
When the animals were found, the mother was in severe pain from the gunshot wound.
A vet attended the scene but the mother's injuries were too severe and she had to be put to sleep.
The foal is a mule, a hybrid of a donkey and a horse.
It is thought the foal had been with her injured mother for many hours before they were found.
The foal was signed over to the care of the Donkey Sanctuary charity organisation.
'Alarming level'
The Donkey Sanctuary's welfare officer Allen Andrews said the attack was one of the "most brutal" he had seen.
"It is tragic that this young mule and her mother experienced so much suffering through human cruelty," he said.
"Mules are extremely intelligent and emotional animals."
Mr Andrews said the number of donkeys and mules being abandoned in Northern Ireland had reached an "alarming level" with figures almost doubling over the last two years.
"From January to August 2013 we have rescued 96 animals that had been thrown out to fend for themselves," he said.