Ben Robinson's father says awareness needed at grassroots level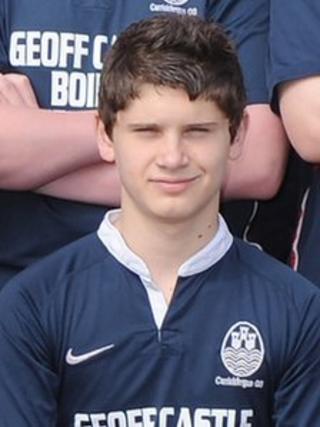 The father of a Carrickfergus school boy who died after suffering concussion during a rugby game has said more awareness is needed at grassroots level to prevent more deaths.
Ben Robinson, 14, was in several heavy tackles before collapsing near the end of the game in January 2011.
Last month, a coroner ruled he died as a result of "second impact syndrome".
His father, Peter Robinson, said the "message was still not getting out".
"At top level, international and professional, the information is there but it is not being disseminated down to grassroots in schools and to individuals," he said.
The syndrome happens when a blow causes swelling to the brain before it has recovered fully from an earlier injury.
He said young people fell into the high risk group if they suffered a concussion because their brains were not fully mature.
"We need to look after them, that particular group so volunteers, parents, teachers, coaches need to be up to speed with the risks of concussion," he said.
Awareness
Mr Robinson is due to meet Education Minister John O'Dowd and the Irish Rugby Football Union in two weeks time and hopes to put a system in place that will help schools and sporting bodies deal with concussion on the field.
"It would be nice for them to listen to us, to say, things could be fine tuned or this is how we think it could be done better because at the end of the day, we're the worst case scenario with what happened to Ben," he said.
At his son's inquest, Mr Robinson expressed concern that coaches and referees did not know enough about how to treat his son's condition at the time.
He said awareness could be raised by implementing good practice already in place elsewhere.
"If you take what has been in place in America, 49 states out of 50 have a policy where you go to secondary school, you get an information pack, for all sports, not just rugby, all contact sports," he said.
"Your mum and dad read it so they're aware of concussion and the dangers of it.
"The pupil reads it, so the pupil is also aware, so it's like a self-help and it means that every pupil who attends that school is concussion aware."
Education Minister, John O'Dowd, has already pledged to implementing any lessons that can be learnt from the school boy's death.
Mr O'Dowd said although schools should already have a risk management process in place to deal with foreseeable risks, there may be more that could be done.
The coroner at the hearing in Belfast said the school boy's death was "probably" the first such case of "second impact syndrome" in the UK.