Schoolboy, 15, 'set fire to love rival's home'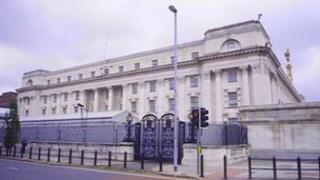 A schoolboy allegedly set fire to a love rival's home amid suspicions his girlfriend was cheating on him, Belfast High Court has heard.
The 15-year-old is accused of breaking into the flat in Lisburn, County Antrim, on Monday night and starting the blaze on the victim's bed.
Although no-one was in the Drumbeg Drive apartment at the time, the entire property was damaged by smoke.
Two people living in neighbouring accommodation had to leave their homes.
The accused, a GCSE student who cannot be identified because of his age, faces charges of arson and burglary with intent to cause unlawful damage.
During a bail application, it emerged that his mother reported him having left home in a terrible mood just before the fire was discovered.
She had expressed fear that he was either going to get hurt or hurt someone.
The court heard how his girlfriend was alleged to have been involved in a relationship with a friend who lived in the apartment block.
A text message allegedly sent to her by the accused stated: "By the way I just burnt his flat and put his windows in. Listen to the sirens... look out your window, police (are) there."
The schoolboy was spotted in bushes across the road from the arson attack due to his phone illuminating, according to the prosecution.
He told police he had done nothing wrong, but later allegedly said: "You have seen nothing yet."
Setting out the scale of the damage caused, a prosecution lawyer said: "The seat of the fire appears to be in a bed in the bedroom. It was completely burnt to the metal springs."
Claiming there was a risk of re-offending or interfering with witnesses, the lawyer added: "It's alleged the applicant sent a text to his girlfriend admitting the matter and the motive being alleged infidelity."
A defence barrister described his client as an "emotional young man".
He told the court: "He was clearly very much involved with his girlfriend and this intervention by a third party upset him very significantly."
The barrister also questioned whether the necessary GCSE tuition would be available to the accused in the young offenders' centre.
The judge adjourned the bail application until the boy's parents can attend and more information on his education is provided.
He added that it would allow emotions to cool off.
The judge said: "This was an absolutely outrageous and disgraceful piece of behaviour which could have had absolutely horrendous consequences for the person that resided at the flat.
"I don't think a period of some weeks would do any harm in relation to taking the heat out of the matter."