Jason McGovern killing accused Mark Donnelly can leave NI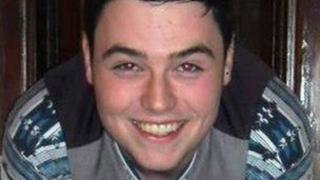 A motorbike racer accused over a New Year's Eve killing can compete in races in Belgium, a judge has ruled.
Mark Donnelly was given permission to fly to Brussels for the event while on bail charged with the manslaughter of a teenager in Omagh, County Tyrone.
Jason McGovern, 19, from County Monaghan, was attacked twice after leaving a nightclub in the early hours of 31 December last year.
He was found dead hours later at a friend's house across the border.
Mr Donnelly, 21, of Greencastle Road, Omagh, faces a further charge of affray in connection with the incident.
A number of other men have also been charged.
The High Court heard Mr McGovern became involved in a row with suspects when he left the nightclub with a friend.
He was knocked to the ground and further assaulted before getting up to get a taxi, according to the prosecution.
It was claimed that Mr Donnelly and two other men followed him before launching a second attack.
A prosecution barrister said an eye-witness alleged Mr Donnelly then threw a punch that floored the victim.
Mr McGovern hit his head on the ground, knocking him unconscious for a period, the court was told.
"Two males helped the deceased. He got in his taxi and went to Monaghan to stay at a friend's house where he was found dead at midday," the prosecution barrister said.
'Very keen participant'
Mr Donnelly, who has been on bail since January, was seeking to temporarily lift a condition that he must not leave Northern Ireland.
He wants to compete in an international motorbike event in Belgium next weekend.
His barrister told the court the accused had taken part in the races since 2006, winning in 2008 and 2009.
"The plaintiff is a very keen participant in the sport of motorcycling. It's an internationally recognised event," he said.
Mr Justice Horner agreed to vary the bail terms so that Mr Donnelly can be out of Northern Ireland from October 10-14.
The judge ordered the lodging in court of £11,000 in cash sureties as part of the conditions, and banned the accused from drinking while he's away.
Mr Donnelly's girlfriend, 22-year-old Aisling McAleer, of Aghaboy Road, Omagh, faces a charge of attempting to pervert the course of justice over a witness statement she provided about the incident.
She was seeking the lifting of a bail condition that she must not have have contact with her partner.
But the judge dismissed her application, ruling that it would be better to wait until after a scheduled preliminary enquiry hearing later this month.