Woman rescued after falling at Giant's Causeway stones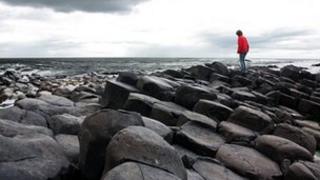 A woman has been rescued after falling onto rocks while out walking at the Giant's Causeway in County Antrim.
The alarm was raised shortly before 09:00 BST on Sunday by the people she was with.
Coastguard rescue teams were tasked from Coleraine and Ballycastle along with an ambulance crew.
Judith McNeice, watch manager, Belfast Coastguard, said it was a difficult operation because of the inaccessibility of the site.
"She was down on the main stones, we think she slipped, she was quite close to the water," she said.
"The stones are fairly inaccessible and it is quite difficult to get people off them again so we needed quite a lot of coastguard assistance to carry the woman on the stretcher back off the stones and into the care of the ambulance.
"It was quite difficult, just because the stones are so rough.
"It's rough terrain, it's difficult to carry someone off. The ambulance crew wouldn't have been able to manage it on their own, so we needed quite a lot of personnel to lift the lady and safely carry her off.
"It turns out she has a lower leg fracture, so it would have been quite stressing for her."