Investment conference is about opening doors, not closing deals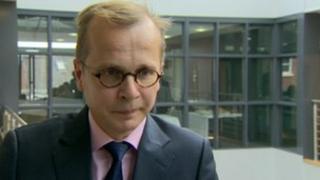 The two-day investment conference in Titanic Belfast that begins on Thursday is not so much about closing deals as opening doors.
Attracting a major company can sometimes take years of work - multi-million pound investments are not going to be based on the strength of one well-run conference.
But this week's event can play a useful part in getting a deal closer to completion, particularly when potential investors are surrounded by people who have already taken the plunge.
One of those existing investors is the international law firm Allen & Overy, which came to Belfast in 2011 and now employs more than 300 people in a variety of back-office roles.
The Belfast office is run by Andrew Brammer, who moved from England to County Down to take up the position.
He will be talking to the conference about how his firm came to choose Belfast and how it managed to grow quickly.
"From the outside Northern Ireland looks like a relatively small labour pool, but given the speed at which we developed here it is possible to scale an operation quickly," he said.
Quality of life
Allen & Overy took over £2.5m in grants from the Northern Ireland Executive's inward investment agency, Invest NI, but Mr Brammer said that should be compared to the economic impact of his firm's investment.
"It's not just about what organisations take from Invest NI, it's about the huge contributions they make back into the local economy, through salaries, training and infrastructure.
"What we put back in exceeds by many, many multiples what we took out to get established."
Mr Brammer will also be spreading the word about the quality of life for any executives considering following his path.
"When I compare it to London or New York, from a work-life balance perspective it's a phenomenal proposition."
The conference comes at an opportune time for Northern Ireland - local GDP figures released next week are expected to show growth in the second quarter of this year.
It was different when the last major investment conference took place in May 2008.
It was clear that major problems were brewing and just four months after the conference the investment bank Lehman Brothers went bust, plunging the world into the biggest financial crisis in a generation.
Under pressure
So for that reason it is a bit difficult to assess if the 2008 conference actually achieved very much as everyone, everywhere put their investment plans on hold.
But the chief economist for Ulster Bank in Northern Ireland, Richard Ramsey, said foreign direct investment actually held up reasonably well during the crisis years.
He said: "Even though the last five years have been pretty difficult Northern Ireland has done extremely well in those tough conditions in terms of bringing in new investment."
With hopes of an improving economy in Northern Ireland and beyond, Invest NI will be under pressure to deliver even more.
Earlier this year the Stormont Public Accounts Committee (PAC) criticised the agency, saying that its performance targets could be perceived as "soft" and that it was not always clear if jobs that had been promised were actually delivered.
There will be some new jobs announced in the coming days - but it could be years before we will know the impact of this conference.