Belfast conference: Political institutions 'rock solid'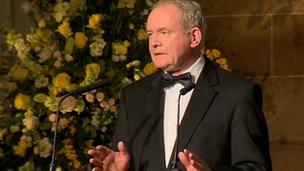 The Northern Ireland peace process and political institutions are rock solid, the deputy first minister has said.
Martin McGuinness was speaking at a reception at Hillsborough Castle in County Down.
It marked the opening of a major international investment conference in Northern Ireland.
Secretary of State Theresa Villiers told foreign investors that Northern Ireland "enjoys a degree of political stability not seen for half a century".
The conference is being hosted by the first and deputy first ministers and is being attended by 150 potential and existing inward investors.
The main event is on Friday when Prime Minister David Cameron is expected to address the delegates.
On Thursday night, Mr McGuinness said: "Where you are now is a completely different place from what life was like here 20 years ago.
"That peace process is rock solid, totally secure, as are the institutions."
Mr Robinson said would-be investors had an opportunity to help the peace process. He said the future was a hopeful one.
The investment conference comes as signs emerge that the Northern Ireland economy is recovering.
It opened on the day US engineering firm Terex Finlay announced it is creating 260 jobs in County Tyrone.
It is hoped that international investors can add to the momentum in the coming months and years.
The conference is the first event of its kind in Northern Ireland, since the global downturn began in 2008.
Earlier, Finance Minister Simon Hamilton said he hoped the conference would help to build on previous successes and "take ourselves to another level economically".
"It's a great opportunity for Northern Ireland to showcase what we have to offer to the world," he said.
"In the past we've had similar conferences which have, in the short to medium term, realised significant investment in Northern Ireland.
"Some of those brand names have been able to appreciate the great offering we have and have built on their investment to create more jobs."
Speaking ahead of the conference, First Minister Peter Robinson said: "The investment conference is a direct result of the very positive impression made by Northern Ireland at the G8 summit in June.
"It is a great chance for us to capitalise on that and ensure that Northern Ireland retains a high profile worldwide."
Related Internet Links
The BBC is not responsible for the content of external sites.