Toddler's injuries 'suggest punches with clenched fist'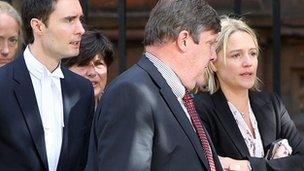 A toddler was beaten so hard and so many times that he was left blinded just minutes before he died, a coroner's court has heard.
Liam Gonzales Bennett was 20 months old when he suffered 31 bruises to his head, possibly caused by a clenched fist, the court was told.
The child from Ballymena, County Antrim, died at the Royal Victoria Hospital in Belfast in February 2009.
A police investigation was launched but no-one was ever charged.
The detective who headed the inquiry into the death said: "There wasn't enough evidence to identify who had caused the injuries to Liam."
The details of the baby's death emerged during an inquest that heard how he was found unresponsive in his cot while his mother, Samantha Bennett was out shopping.
Her fiance at the time, Noel McKeown, was looking after the boy and his older sister at the couple's home in Sunningdale Park. The court was told Mr McKeown had heard Liam cry and when he went to investigate found the baby was not breathing.
Mr McKeown, who now lives in Australia, made a frantic call to Ms Bennett, who had been at a shop 10 minutes away, and then called an ambulance before beginning resuscitation efforts.
Ambulance crews were working on the child when Ms Bennett returned to the house.
Liam was rushed to Antrim Area Hospital but his condition was so grave he was transferred to an intensive care unit at the RVH.
Doctors were so concerned about the severity of his injuries they contacted police and social services.
Liam died a day after his admission to hospital and an investigation was immediately launched.
A post-mortem examination carried out two days later revealed multiple bruises at the back of his skull, on the left side of his head, his right forehead and the adjacent right area at the side of his skull.
Deputy state pathologist Dr Alistair Bentley said the injuries were consistent with being punched with a clenched fist.
"These were discrete bruises. Thirty-one in total, up to 21 inches in diameter. I have suggested that they were consistent with impact from an object or objects with a relatively small surface area, possibly the knuckles of a fist," said Dr Bentley.
In his findings Dr Bentley described the cause of death as blunt force trauma of the head.
He said the injuries also caused swelling of the brain and bleeding into the eyes, which would have resulted in blindness.
"In view of the multiple blunt force trauma, the impact or role that shaking would have played would be irrelevant," added Dr Bentley.
The inquest was told that Ms Bennett and her former partner were interviewed by police on at least three separate occasions but offered no explanation for the injuries.
The police detective, who has since retired, told the coroner a file had been submitted to the Public Prosecution Service (PPS) but police were directed that no further action be taken.
"A file was completed and a report was sent to the PPS for their direction and it came back no prosecution was to be taken in respect of either Samantha or Noel," she said.
Later, she added: "Police are not physically looking for anyone else."
The court also heard claims that Liam had fallen from a low stool on to a carpeted floor 10 hours before his collapse but medical experts dismissed this as a contributing factor in death.
Dr Nathaniel Cary, a forensic pathologist from Oxford, rejected as "flawed" any suggestion the injuries could have been caused by a fall.
"I do not accept that fatality would be a possible outcome from such a fall," he said.
Dr Cary later added: "The multiplicity of the bruises indicates multiple blunt force impact such as with the knuckles of a fist."
He claimed the nature and extent of the bruising would have had an almost immediate effect on the child's behaviour adding: "A blind two-year-old would not appear normal."
When asked by Ms Anderson: "You are in no doubt that this child suffered an assault?" Dr Cary replied: "Yes."
He said: "And the presentation was in close proximity to the assault. Within minutes. One of the forms of presentation may be the stoppage of breathing."
Another doctor who examined Liam's eyes after death said it was "inconceivable" he would have behaved normally for a 10-hour period prior to his death.
"We know from other cases that the overall well-being of an infant changes abruptly. At the time of the infliction of the injury his normal demeanour would have changed profoundly so that any person, doctor or otherwise, would recognise it."
Ms Bennett, who was supported by family members in the public gallery, wept as graphic details of her son's death were recounted to the court.
Mr McKeown, who is working abroad, was not present for the hearing and is due to give evidence on Friday by Skype.
The baby's father, who lives in Tenerife, was also not in court.