1993 Belfast UVF murder inquiry reopened by PSNI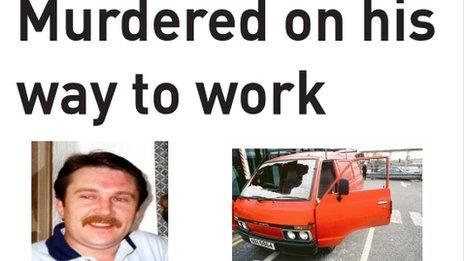 Detectives have reopened an investigation into the UVF murder of a man in east Belfast 20 years ago.
Joseph Reynolds, a 40-year-old from west Belfast, was travelling to work when his van was ambushed by gunmen on Sydenham Road on 12 October 1993.
Three others were injured. Several people were arrested, but no-one was charged. New information has led to the case being re-opened.
Police will be making a fresh appeal about the sectarian killing on Friday.
Mr Reynolds, who was a Catholic and a subcontractor painter, was on his way to Shorts aircraft factory with a number of workmates, when their vehicle was attacked.
The Ulster Volunteer Force (UVF) claimed responsibility for the attack.
On Friday, police officers will be in various parts of east Belfast distributing leaflets and posters and asking for help from the local community.
Detective Chief Inspector Karen Baxter said the murder of Mr Reynolds, a father of five, had "devastated the Reynolds family and shocked the east Belfast community".
"There was something about Joseph being shot on his way to work, in broad daylight, in front of relatives and workmates, which chilled people," she said.
"I am asking people who witnessed the shooting to make contact with police. I am also appealing to people in east Belfast who have information about those involved to come forward."
The killing happened after Mr Reynolds' red Nissan van had stopped at a pedestrian crossing on Sydenham Road at 08:25 BST, to allow two men to cross.
The two men, who were wearing blue boiler suits and flat caps, walked across the road at Fraser Street but when they drew level with the van, they opened fire with a handgun and a rifle.
At the same time, another man in a stolen light blue Astra car, which had pulled up behind the van, also opened fire.
Mr Reynolds' workmates managed to get the van to the Shorts aircraft factory, where medical assistance was provided, but he was pronounced dead.
Police said the three gunmen ran off down Frazer Street, across the Sydenham by-pass to Ballymacarrett Road, where they drove off in a dark blue Vauxhall Astra.
Anyone with information is asked to contact the investigation team at Ladas Drive on 0845 600 8000 or use the Crimestoppers number 0800 555 111.