Viable mortar device found in Londonderry security alert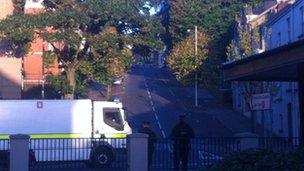 A viable mortar-type device has been found by police during a security alert in Northern Ireland.
About 1,000 people had to leave their homes in Derry because of the alert and several roads were closed. All police cordons have now been lifted.
The police said the "intent was to kill or injure" and that they believe Strand Road police station was the target.
Detectives have said they think it was moved to a launch point in Lawrence Hill in a wheeled holdall.
They have released a picture of the bag and said the device had all the components to make it viable.
Supt Stephen Cargin said: "This is complete disregard for innocent lives by those individuals who left the device."
He added: "Close to 1,000 people had to leave their homes last night because of the misguided actions of the people responsible for this incident.
"It is only by good fortune that we are not talking about loss of life or serious damage to property.
"While the device will be forensically examined in due course it is safe to say that the intent here was to kill or injure and create fear within the community."
At one stage road closures included Strand Road, Queens Quay, Asylum Road and Northland Road, between Clarendon Street and Northland Avenue.
SDLP MLA Pat Ramsey said: "This had the capacity to cause catastrophic damage and suffering in our city.
"Those responsible for today's disruption must know that they will not break the spirit of this city and its people.
"We have endured too much to allow anyone to attempt to bring the past back to our streets.
"Those who have sought to hurt our city and our people will never win."
A wake of a man was being held on Lawrence Hill while the security alert continued.
Eoghan Barr, the dead man's nephew, said: "My family are quite upset. My uncle passed just yesterday. We have family arriving from England and this has caused additional distress.
"My uncle's son couldn't get in to spend time with his father last night. It was very distressing.
"Most of the family decided not to leave the house. It's a very emotional time anyway and this has just added to it."