Clothes horses distributed in Belfast after laundry complaints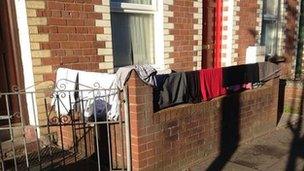 Belfast City Council has given clothes horses to members of the Roma community, in response to complaints about laundry in part of south Belfast.
The complaints were about members of the Roma community drying clothes on front railings and walls of their own and their neighbours' houses.
It is understood there were objections from landlords in the Holyland area, which is popular with students.
So far, the council has distributed about 30 clothes horses.
Bi-lingual explanations were also delivered to the properties.