Fraudulent Downpatrick travel agent gets suspended term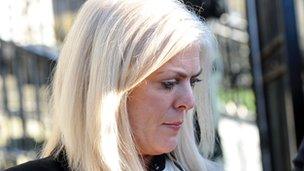 A County Down travel agent who defrauded customers, airlines and cruise companies out of more than £110,000 has been given a suspended sentence.
Kathy Ward, 40, from Tollymore Brae in Newcastle, admitted 80 charges relating to La Mon Travel in Downpatrick.
She was given a two-year sentence suspended for three years.
Her co-accused and partner, William Mark McConkey, of the same address, was given a one-year suspended term.
Downpatrick Crown Court was told that the offences took place between February 2009 and February 2010.
Among those present in the court were some of the customers Ward had defrauded.
Some had paid for holidays that were not booked, while others had been stranded at foreign airports.
The court was told Ward's motivation was to keep her business afloat, not to fund a lavish lifestyle.
Some £29,000 from Ward was lodged with the court, to be distributed among individual customers who were owed money.
Solicitor Niall Murphy said all the victims had been repaid.
In sentencing, the judge said he took into account Ward's health, which he agreed at the time had "impaired her judgement".
He also took into account that her business, La Mon Travel, was not fraudulent from the outset.
The judge said she had been "robbing Peter to pay Paul" when the company went into "meltdown".
"She should have just closed it down," said the judge.