Aircraft firm Bombardier creates 250 Belfast jobs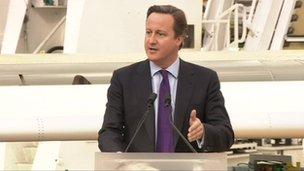 A Canadian-based aircraft maker has announced it is creating another 250 jobs in Belfast this year.
UK Prime Minister David Cameron visited Bombardier on Friday during an investment conference.
Wings for the firm's C-series aircraft are made at Queen's Island in east Belfast.
"What we need in our country is more businesses and jobs like this," Mr Cameron told workers on the factory floor.
"We need to make more things, we need to export more things, we need to design more things. We want the high end, high tech, high paid, high skilled jobs that companies like this bring to our country."
The Canadian company, which has a long-term presence in Belfast, has over recent years been rolling out a £520m investment in its facilities in the city.
Mr Cameron said the firm's commitment was the biggest single investment in Northern Ireland.
On Thursday the Secretary of State Theresa Villiers said the government had approved the business case for a £120m research and development project at Bombardier which would create 230 jobs.
Bombardier president Pierre Beaudoin said they were setting new standards.
"The prestigious LEED certification of our new Belfast facility also demonstrates that not only are we on the right track with our innovative and environmentally conscious products, we are also delivering on our commitments as a responsible corporate citizen," he said.
Related Internet Links
The BBC is not responsible for the content of external sites.