Stephen Carroll case: Police tried to 'sabotage' appeal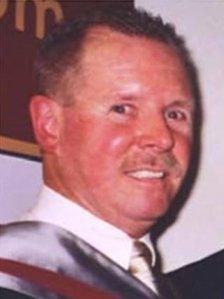 Police "went out of their way to sabotage" an appeal by two men convicted of murdering a policeman, the Court of Appeal has heard.
Constable Stephen Carroll, 48, was shot in Craigavon, County Armagh, in 2009.
Brendan McConville, 42, from Glenholme Avenue, Craigavon, and John Paul Wootton, 22, from Colindale, Lurgan, want their convictions overturned.
A lawyer said police tried to "nobble" a witness who would discredit key prosecution evidence.
In the original trial, a witness known as witness M testified he had seen McConville near the scene of the killing.
A relative of witness M is to be summonsed to give evidence at the appeal.
Defence lawyers said the relative believes that witness M is a compulsive liar and a Walter Mitty character.
McConville's barrister told three Appeal Court judges on Friday that the police "went out of their way to sabotage" the appeal, by arresting the new witness and detaining him for two days before releasing him.
Earlier, a prosecution lawyer said that "all of the evidence, viewed in its totality, did not present a speculative case, but a significant case" against the two defendants.
The court also heard that the Prisoner Ombudsman Pauline McCabe and the former governor of Maghaberry Prison, Steve Rodford, are to be called to give evidence next week.