Barry McCrory murder: Donegal police surround building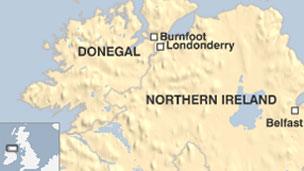 An armed garda unit is understood to have surrounded a building in County Donegal near the border with Londonderry.
The operation is believed to be part of the investigation into the murder of Barry McCrory in Derry on Thursday.
It is thought to have began at about 17:30 BST.
It is understood that residents in the Brae Road area of Burnfoot have been told to stay in their homes.
Mr McCrory, who was 35, was shot dead at a flat in Shipquay Street on Thursday morning.
Gardaí in County Donegal have been assisting the PSNI's search operation.
In an unusual move, officers have requested information on the whereabouts of 58-year-old Kieran McLaughlin.
Members of the public are being advised not to approach him.
Several hundred people, including the family of Barry McCrory, gathered at Guildhall Square in Derry on Friday to say "no to violence".
Political representatives and business leaders also attended the rally.
His partner was forced into another room during the gun attack, and has been left "highly traumatised".
Detective Chief Insp Ian Harrison said: "This was a brutal execution of an individual. No person has a right to be judge, jury and executioner."