Draft abortion guidelines 'causing fear among NI health staff'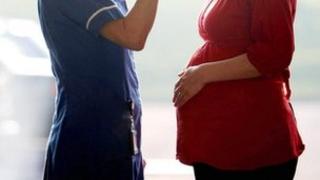 Draft guidelines on abortion issued in Northern Ireland in March have caused a "mood of fear" among medical staff, according to a retired obstetrician.
Prof Jim Dornan has more than 40 years of experience in obstetric medicine.
He said health trusts had sought legal advice over the implications for staff in the draft guidelines.
He added that some NI trusts were told by their legal teams that staff should stop giving advice to pregnant women in cases of foetal abnormality.
Prof Dornan was speaking to BBC Radio Ulster amid recent controversy over two such cases, where pregnant women requested abortions in Northern Ireland because their babies had been diagnosed with anencephaly, a severe brain abnormality.
Sarah Ewart and another woman, known only as Laura, were both told their babies would die either before or shortly after birth, but they were both refused terminations as foetal abnormality is not a reason for abortion under Northern Ireland law.
'Offensive'
Prof Dornan said cases of this kind had started to emerge as a result of changes laid out in the new draft abortion guidelines published in March.
He said the draft guidelines had introduced two new measures that medical staff had found "particularly offensive".
Those measures, he said were the warning that staff could face ten years in jail if they failed to report their suspicions of unlawful terminations to police, and also the recommendation that only a consultant psychiatrist should decide whether or not a pregnancy should be terminated on the grounds of risk to a woman's mental health.
Prof Dornan said: "The mood is fear within the health care professionals because of these guidelines."
He added: "Some of the trusts went to their legal teams at that stage (March) and were advised to stop...giving advice on what to do in these situations."
The retired obstetrician worked as director of foetal medicine at the Royal Maternity Hospital in Belfast for 20 years and was a member of the committee that drew up the previous guidelines on abortion in Northern Ireland.
He said: "It has always been made very clear to us that case law in Northern Ireland 100% allows a pregnancy to be delivered before 24 weeks in certain circumstances. Those circumstances are that they are definitely not because there is a foetal abnormality but because of the effect of the abnormality on the physical or mental health of the mother."
'Conviction'
However, Prof Dornan said that after a recent judicial review, Northern Ireland's Department of Health "then brought forward new guidelines in March this year that bore no resemblance to the previous guidelines".
"There were two areas that were particularly offensive to those of us who have been providing this very sensitive care for over 50 years - the assessment of mental health. It was suggested that this should be by a psychiatrist and not by the team of geneticists, paediatricians, obstetricians and midwives who have been doing it for 50 years.
"Secondly, they said that any healthcare worker, including non-clinical healthcare workers, if they suspected that something illegal was going or in their unit, they must report it to the PSNI or risk ten years in jail."
However, he added that he was "greatly heartened" to hear the Health Minister Edwin Poots say that he would ask the Director of Public Prosecutions (DPP) to "state unequivocally what the chances are of conviction under present law should any health care workers be involved".
Mr Poots offered to meet both women involved in the recent abortion controversy and to examine the legal implications for staff who are asked to carry out terminations in cases of fatal foetal abnormality.
'Support'
Prof Dornan said: "I think that'll be very, very helpful. I really can't see the DPP coming out with any other thing other than to say that what we were doing right up until March of this year was within the law."
He told BBC Radio Ulster that every year, about about 200 pregnancies in Northern Ireland will involve "major genetic or anatomical problems" with the foetus.
He said that in the vast majority of problem pregnancies in Northern Ireland, obstetricians "work very closely with our paediatric colleagues and do our best to maximise outcome for the mother and the baby".
"Some women have got the skill set that they can continue with a pregnancy, some do not.
"We support them all, all life should be respected and is respected. All of those of us involved in this healthcare area respect life. We are all pro-life, but we are pro-life of the mother and pro-life of everybody," Prof Dornan added.