PPS bids to reinstate Robert Hamill murder charges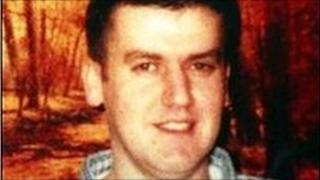 The Public Prosecution Service has launched a bid to reinstate criminal proceedings against three people in connection with Robert Hamill's murder.
Mr Hamill was beaten by a loyalist mob in Portadown, County Armagh in April 1997.
He never regained consciousness, dying in hospital 12 days later.
The PPS challenge follows the decision to halt conspiracy to pervert the course of justice charges faced by the two men and a woman.
They include a former RUC officer and his wife.
Proceedings were stayed by a district judge earlier this year due to the perceived unreliability of a key witness in the case.
Now the PPS is seeking to have that decision judicially reviewed.
RUC officers in the area at the time of the attack have been accused of failing to intervene in the assault.
One of those in a Land Rover at the scene was Robert Cecil Atkinson.
The 59-year-old and his wife Eleanor Atkinson, with an address at Brownstown Road, Portadown, had both been accused of conspiring to pervert the course of justice in connection with the investigation into the killing.
Similar allegations were made against another man, Kenneth Hanvey, of Derryanvil Road, in the town.
All three defendants had denied the claims against them.
In July, District Judge Mervyn Bates stayed their cases on the grounds that there had been an abuse of process.
'Unreliable witness'
He ruled that the evidence from a woman who was the central witness was so unreliable that a jury could not convict on it.
His verdict is under challenge by the PPS, with the case due to be heard next month.
During a preliminary mention on Wednesday, counsel for the prosecution service, Tony McGleenan QC, expressed confidence in clearing the first hurdle of establishing an arguable case.
"It's not expected that there will be controversy about the granting of leave (to seek a judicial review) in this case," he told the court.
It is anticipated that lawyers representing the Hamill family will be given notice party status to participate in the challenge.
Mr Justice Treacy listed the case for hearing on 8 November.