Welfare reform: where is Stormont's legislation?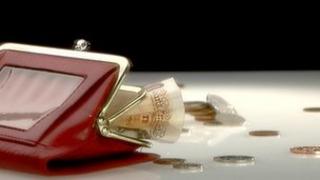 It is the biggest change in the benefits system for decades.
Westminster has already legislated for welfare reform - more than 18 months ago.
Stormont is supposed to be passing a bill to introduce the changes in Northern Ireland.
These include a new universal credit payment to replace child tax credit and housing benefit.
But where is the legislation?
It was pulled by the Social Development Minister Nelson McCausland in April, before it could reach the Northern Ireland assembly's consideration stage.
At the time, it was suggested there was more negotiation to be done. In other words, there was disagreement between Sinn Féin and the Democratic Unionist Party (DUP) and the bill was not going to pass the next stage.
Fraught process
Welfare Reform - which the government says is designed to simplify a complex system, get people back to work and target money to those most in need - is highly controversial as it is also designed to make savings.
There have been claims that it could cost the Northern Ireland economy several hundred million pounds.
Welfare reform has been a fraught process. No fewer than three Stormont social development ministers, the SDLP's Margaret Ritchie and Alex Attwood and the DUP's Nelson McCausland, have handled the issue.
Parliament passed its own reforms in February 2013 but devolution meant Northern Ireland could introduce its own legislation, which allowed for flexibility while still maintaining the same benefits system.
For example, instead of the new universal credit being paid in a single monthly sum to one head of household, it was agreed that Northern Ireland could pay out the benefit to more than one person in smaller payments over the month.
This was designed to help households manage their budget.
The bill finally came to assembly in October 2012 but a public row between Sinn Féin and the DUP soon followed, before the bill was withdrawn.
Cuts
By April this year, Sinn Féin and the DUP apparently shared concerns about the spare room subsidy, called the bedroom tax by critics.
This policy would mean cuts to housing benefit for those who had extra bedrooms.
It was argued that this change was not suited to Northern Ireland, not just because of the historic segregation in housing, but also because of a shortage of single-bedroom apartments.
Les Allamby of the Belfast Law Centre has been keeping a close eye on developments around the negotiations.
He said a hint of progress came in August in the publication "Inside Housing" which quoted Sinn Féin's Alex Maskey as saying his party had reached agreement with the DUP that only new housing claimants would be affected by the changes. This was not widely reported.
Even so, there has been no date for the bill either going to the Stormont executive or coming back to the assembly floor.
This is despite further claims from Stormont sources that a deal was done after negotiations between the DUP and Sinn Féin as well as the Department of Social Development, headed by Nelson McCausland, and the Department of Works and Pensions in London.
Delay
BBC Northern Ireland's The View asked for an interview with Mr Maskey on welfare reform, as he chairs the Social Development t committee which is scrutinising the proposed benefit changes.
Sinn Féin declined saying the party was still working on the issue.
The DUP is saying something different.
In recent days, several DUP ministers have referred to a package being in place and they have become increasingly vocal about the delay in the bill.
Speaking to The View, DUP finance minister Simon Hamilton would not be drawn on whispers that Deputy First Minister Martin McGuinness had signed off on a package with First Minister Peter Robinson over the summer.
"I can't comment at all on the internal machinations of Sinn Féin," he said.
Following a meeting of ministers in Downing Street earlier this month, Mr McGuinness was asked about the issue.
He said: "It can be very difficult for many, many people who are going to be impacted. The issue of the bedroom tax is obviously a critical one."
There have been claims Sinn Féin is blocking the bill because of pressure from the SDLP - or because the bill is a bargaining chip in its bid to steer its own issues through the executive.
'Computer problems'
Mr Allamby suggested Sinn Féin might see some advantage in delay - hoping that problems around welfare reform in Great Britain could see a rethink there before the changes comes to our shores.
He added that the new universal credit was supposed to be rolled out across Great Britain this month but has been limited to six areas, apparently due to computer problems.
"I think that's emboldened our politicians to take this a bit more slowly and see what's working and more importantly what's not working," Mr Allamby said.
A strategy of delay is unrealistic, according to Trevor Ringland of the the Conservative Party in Northern Ireland.
"If they think they can take advantage of that, they are living in some strange world. It is being rolled out in the UK and it is the UK taxpayer who is funding it. And the UK taxpayer expect it to be rolled out as well."
The executive has been warned that patience in London is wearing thin.
'Russian roulette'
If Stormont doesn't pass its welfare bill soon, the treasury has threatened to impose penalties.
That means taking £5m a month from Stormont funding from January, rising to £200m by 2017/18.
The Stormont finance minister said this threat must be taken seriously at a time when money is already tight.
"They are going to take next year around £50m to £60m out of the budget. I don't want to play Russian roulette with that sort of money," Mr Hamilton said.
Meanwhile, there are money worries on the ground as well as to what welfare reform will mean for families and individuals, not least those who receive benefits due to a disability.
Dermot Ferris, who suffered a stroke around five years ago and now campaigns for the rights of disabled, has concerns about the impending welfare legislation.
"They say the government is cracking down on scroungers and the disabled people might fall in the gap," he said.
January deadline
Mr Ferris also said ordinary people are being caught in a battle among politicians and there is an urgent need to end the uncertainty.
"The bill and its delay are causing an immense concern because people don't know what is coming. They don't know how fast (the change) is coming."
Perhaps progress does not just depend on Peter Robinson and Martin McGuinness agreeing.
Some assembly sources claim Sinn Féin has to take into account its power base in the Irish parliament in Dublin, where its members do not want to be accused of fighting welfare cuts in the Republic while implementing them in Northern Ireland.
Whatever the truth, the DUP has warned time is running out if the January deadline for legislation is to be met.
The View is broadcast on BBC One Northern Ireland at 22:35 BST.