Ryan Stephen McDowell escapes jail after admitting 'pipe bomb' attacks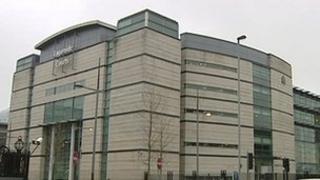 A man who admitted making "crude" pipe bombs that were planted at a Catholic primary school, a community hall and a sports ground, has escaped a jail term.
The court heard Ryan Stephen McDowell, 21, had carried out the sectarian attacks on behalf of a group calling itself the loyalist action force.
McDowell, from Laurel Park, Ahoghill, County Antrim, pleaded guilty to making and possessing the devices between November 2010 and January 2011.
He was put on probation for two years.
A prosecution barrister said that the offences involved the planting of three crude, firework-based pipe bomb-type devices - one of which was not deemed to be an explosive device.
'Remorseful'
They were left at the entrances to St Paul's Primary School, in Ahoghill, Clooney Community Centre and the Roger Casements Gaelic Athletic Association (GAA) ground, in Portglenone, County Antrim, on 9 January, 2011.
McDowell's DNA, the court heard, was later recovered from tape on the devices. Tape matching the sort that was used to make the devices was also found in his bedroom in a follow-up police search.
Belfast Crown Court was told McDowell was remorseful for his actions and later apologised to a local parish priest.
A defence lawyer said the offences were a result of his client's boredom rather than any ideological motivation or resentment of others.
He added that the whole episode was "an amateurish a carry on as one could imagine".
McDowell, the lawyer said, had a good work ethic and had never been in trouble before, adding the behaviour was out of character for his client.
The judge said the pipe bomb attacks were no doubt sectarian and were meant to foment further disharmony, cause disruption, fear and annoyance on behalf of a little known loyalist group.
However, he added that to described the group as such would possibly give them a status they do not deserve.
'Incapable'
In his sentencing, the judge also said it was "debatable" if the devices could be considered explosive materials, as defined by legislation.
He said that essentially they were no more than fireworks, wrapped in tape to form a pipe.
Judge McFarland said that "clearly" the devices were incapable of causing death or serious injury, although anyone picking up a device, after the fuse had been lit, could have suffered a hand injury, but that the chances of that were somewhat remote.
The judge added there was no intention to injure in this case.
He told McDowell, that instead of jail, or even a suspended sentence, he would be put on probation for two years and ordered to do 100 community service, preferably working on cross community projects.
He was told had had escaped prison due to his youth, remorse, exemplary work record and guilty plea.