Finance Minister Simon Hamilton welcomes banking advisory panel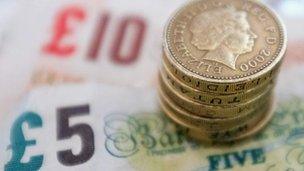 A new advisory panel has been set up to help Stormont deal with banking issues.
Part of its focus will be to examine bank lending to businesses.
Finance Minister Simon Hamilton said it was an important initiative because "constrained lending is impeding economic recovery".
He added: "This panel will bring independent eyes.
"We have asked it to tell it to us exactly as they see it."
Known as the Access to Finance Implementation Panel, it will include the chief executive of the NI Chamber of Commerce, Ann McGregor.
The other members are Prof Russel Griggs, from the UK Banking Appeals Process, and John Trethowan, a non-executive director of the Progressive Building Society and head of the Credit Review Office in Ireland.
"They bring a wealth of knowledge and expertise on banking issues," said the Enterprise, Trade and Investment Minister, Arlene Foster.
It has held its first meeting and will meet both ministers in December.