Tony McCoy: tributes paid upon 4,000th race win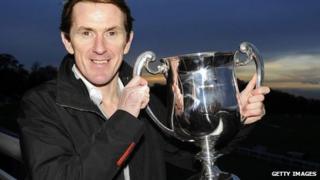 Tributes have been paid to AP McCoy upon his record-breaking 4,000th win as a jump jockey.
Here is a selection of what has been said after the 18-time champion reached this milestone.
Claire McCoy, AP McCoy's mother
"I'm extremely proud of him.
"I went into the kitchen during the race - my daughter Roisin and a few friends were watching it, and when I realised there was no noise coming from the room I thought he wasn't going to do it.
"I came in at the very last hurdle - that was the worst bit. He nearly carried the horse over the line."
AP McCoy's sister Jane
"It really means so much to all of us - the immediate family, the wider family and the whole community as well.
"Everyone has been so very supportive of Anthony down through the years.
"There's been plenty of downs as well as ups, but the ups keep turning up. It has put Moneyglass on the map a number of times, and it's great for the sport of horseracing as well.
"Anthony being in horseracing has really brought it to the top where it should be."
JP McManus, horse owner
"What a man and what a ride - that ride sums him up.
"I remember when he first came to the UK, Christy Roche brought him to my attention and he said 'you know this AP, he's getting 7lb and he should be giving weight away'.
"I was delighted to have the opportunity to buy a drink for everybody here to toast what AP has done today. I'm very fortunate."
Jonjo O'Neill, trainer
"It's just amazing. You can't put words to it, but the man is fantastic. He's a fantastic man and a fantastic jockey.
"Old horses, young horses, monkeys. You name it, he can win on it, that's the fantastic thing about him - it doesn't matter what it is he just wants to ride winners.
"I'm just very lucky to be in the position where I get to use him most of the time. He gives great feedback to owners. We're blessed to be around him.
"I can't finds words to describe the fella. I'm just so pleased to have him."
Clare Balding, sports presenter
"The whole way through the race you thought he can't win this - jumping the second-last fence the horse made a terrible mistake, and suddenly after the last, there he is.
"That is typical of AP - he just doesn't give up and he doesn't let the horse give up on him.
"Put him on any horse in the race and he can make the difference - that's why he has ridden 4,000 winners. It's extraordinary.
"I'd put this up there with any of the great sporting achievements."
Arsene Wenger, Arsenal manager
"I would like to pass on my congratulations to AP McCoy for reaching this remarkable milestone.
"He has been at the top of his sport for a very long time - as long as I have been manager of Arsenal Football Club - and that shows fantastic consistency.
"He has come through a lot of injuries, and has shown great resilience to get to where he is. Everyone at the club is proud to know that AP McCoy is an Arsenal supporter."
Michael Owen, ex-footballer and current racehorse owner/breeder
"He's a phenomenon. To get to the top of your sport is hard enough but to stay there and to stay there for as long as AP has is quite astounding.
"And to do so in a sport that's very hard mentally and physically - he must have broken every bone in his body - and to have done it for so many years is just an outstanding achievement.
"He's an outstanding person and professional and a great ambassador for the sport. To reach 4,000 winners is a phenomenal achievement and surely no one will do that again."
Peter Robinson, Northern Ireland first minister
"Tony McCoy is a great ambassador for Northern Ireland and an icon in the sport of National Hunt racing.
"The sporting public recognised his achievements in 2010 when he was voted the BBC Sports Personality of the Year, the only jockey to have received the award, and he was later honoured by the Queen in 2011 with an OBE.
"His will to win, in a sport full of tough competitors, is legendary and has endeared him to the racing public and beyond."
Martin McGuinness, Northern Ireland deputy first minister
"Tony has had phenomenal success in racing but reaching the milestone of 4,000 winners confirms his place as sporting great.
"He is a man of not just great sporting ability but great determination to succeed at the very highest level.
"I know the people of Moneyglass and County Antrim are proud of one of their most famous sons and I hope Tony and his family and friends enjoy every moment of this hard earned and much deserved success."