Cliff-side loo offers spectacular view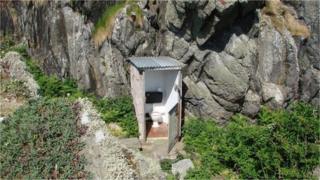 It is not often you bring your binoculars with you, when you head to the loo.
But a toilet off the coast of County Down could possibly offer the prettiest view from any lavatory in Northern Ireland.
It is situated on Copeland Bird Observatory, about three miles off Donaghadee.
The island - which is not populated by humans - is popular with birdwatchers, many hundreds of them flocking there every year to enjoy the peace and tranquillity.
And the cliff-side loo, on the east of the island, is totally in keeping with that ambience.
You can spend a penny while contemplating spectacular sea views - as the toilet features a half-door.
Inconvenient spot
The view from that particular loo has been revealed as NI Water marks World Toilet Day on 19 November.
David Galbraith, of Copeland Bird Observatory, said there was a practical reason to install a public convenience in what may seem to be a most inconvenient spot.
"It was installed there because one of the most important ingredients for any toilet is that you can flush it. It needed a water supply and we can get a water supply to it there," he said.
"There's a cliff behind it. It's downhill all the way there and uphill all the way back. It is just a couple of hundred metres from the main house."
The observatory is situated on Old Lighthouse Island, or the "bird isle", as it is known locally.
It has been open since 1954, from April to October, with most visitors coming from across the UK and Ireland.
The observatory's main aim is to collect data on migratory and breeding birds, which may be used for their conservation and there are ongoing projects with a number of universities.
To accommodate the influx of visitors, there is another loo on the island, but it relies on rain water collected from the roof of the main house for flushing.
Mr Galbraith, who has been visiting the island since 1976 and helps run the observatory, said: "If there's only one or two people, you would tend to stay nearer the house and use the facilities there.
"But we could have 15 or 18 people staying and with one toilet in the house, you could have a queue at times."
'Complete privacy'
The cliff closet has become a bit of a talking point among bird watchers - and it is just possible it may be engaged longer that the average lavatory.
"You can see all the way to Scotland from there," said Mr Galbriath.
"You are basically looking straight out to sea, so if you are there, nobody is going to see you from the shore. You have complete privacy.
"Life really is at a slower pace here."
A spokeswoman for NI Water said World Toilet Day "aims to break the taboo around toilets and draw attention to the global sanitation challenge".
"World Toilet Day was created to raise global awareness of the daily struggle for proper sanitation that a staggering 2.5 billion people face," she added.