JFK assassination: President's man came from Tyrone to Texas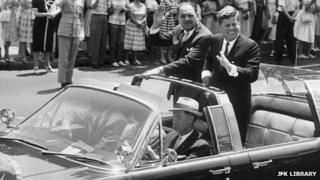 The world is remembering the 50th anniversary of the assassination of President John F Kennedy, but the date has special significance in one corner of County Tyrone.
The man who was driving JFK on that fateful day, 22 November 1963, came from Stewartstown.
Bill Greer was one of the thousands of people who emigrated from Ireland in the 1920s, but, as far as we know, he was the only man to end up at the White House.
He had told his family that he did not want to stay and labour on farms; he wanted something better for his life.
The Irish Connection
That something better was to work as a secret service agent for five presidents, including President Kennedy.
Now for the first time in 50 years, his nephew, Belfast man Ken Torrens, has spoken exclusively to the BBC.
Ken said his uncle and President Kennedy had a close relationship, which he put down to the Irish connection.
President Kennedy's grandfather emigrated from Wexford in the 19th Century.
Ken said his uncle drove the president practically everywhere.
"He was with him in Dublin, he was with him in Berlin, he was with him in Paris. He drove him in Italy, he drove him in London, Mexico and Toronto."
Dark day
Tragically, Bill was the agent assigned to drive President Kennedy the day he was shot.
In the years afterwards, he talked about what had happened.
Ken said his uncle told him that the first thing he heard was "bang, bang, bang."
He had initially thought it was one of the outriders backfiring, until he saw Mrs Kennedy stretching over the back seat of the car.
Then, one of the secret service men said: "Bill - let's get the hell out of here. We've been hit."
Ken said his uncle took the president's death very badly. He said Bill told him that it "just tore me to pieces" because he really liked the man.
So it must have been hard when questions were asked about his actions on the day.
Author Phil Shenon has written about President Kennedy's death. He said it was only after the assassination that rules were changed for the secret service.
"Now, if shots ring out secret service drivers are instructed to drive away and get out of the situation immediately," he said.
"Poor Greer - he heard shots - worried about his passengers, turned his head and he may have put his foot on the brake and, tragically, that may have made it easier for Oswald to fire again."
But Ken said the Kennedys only had good words for his uncle.
He has a copy of a letter sent to Bill's widow by Ted Kennedy, JFK's brother, in 1985.
In it, he said her husband served five presidents with distinction and he was "conscientious, courageous and committed".
Ken feels nothing but admiration for the uncle who meant so much to him.
"For a fella who went from nothing to what he did (I'm) justly proud, I really am... his memory will live forever."
You can hear more of this story on BBC Radio Ulster's Good Morning Ulster from 06:30 GMT on Friday and on BBC Newsline, BBC One Northern Ireland at 18:30 GMT.