Fourth hoax alert in Gobnascale area of Derry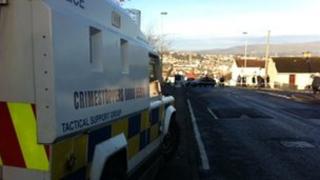 A fourth security alert in the Gobnascale area of Londonderry has ended and been declared an elaborate hoax.
There were three hoax bomb alerts overnight in the same area. Army bomb disposal experts examined suspicious objects in all four cases.
A separate alert at Hollymount Park in the city is continuing.
Trench Road close to Hollymount Park has been closed and motorists should avoid the area.
About 50 homes in Gobnascale estate were evacuated overnight while Army bomb disposal officers examined the objects.
The first was found at Mimosa Court at about 00:55 GMT, the second on Strabane Old Road about 20 minutes later and the final one in the same area shortly before 01:50 GMT.
All three objects were declared to be elaborate hoaxes.
At about 09:00 GMT on Friday, police asked residents in Strabane Old Road to leave their homes again due to the new alert.
However, as many had spent the night out of their properties, some did not want to leave again.
They were asked to remain at the back of their homes while the object was examined.