Bombardier to build Newtownabbey biogas energy plant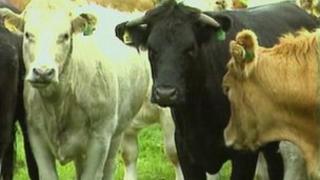 Aerospace firm Bombardier has received planning permission to build a renewable energy power plant at its Newtownabbey factory.
The biogas-powered unit will have the capacity to produce 500kw of electricity - the equivalent supply for 300 homes.
The biogas will not be produced on the site but sourced from suppliers and transported to the facility.
Biogas is produced by decomposing organic matter such as animal waste.
The production process is known as anaerobic digestion.
This gas is then used to power an engine unit that converts it to mechanical energy and then to electricity.
Electricity costs
Energy costs are one of Bombardier's biggest overheads and it has embarked on a strategy to focus on renewable energy as a way to manage future rises in electricity costs.
Similar applications for renewable energy plant have been on behalf of Bombardier for their sites in Belfast and Dunmurry.
Environment Minister Mark H Durkan said renewable energy "represents a real market opportunity for industry".
"This application demonstrates how we can minimise our resource consumption and sustain our environment, whilst boosting our economy," he said.
Mr Durkan said the decision to grant permission had been "turned around in just six weeks and represents how a more efficient planning system is delivering the right decisions quickly for business".
Earlier this week Bombardier announced an eight-year engine repair contract with Oman Air.
That work will be carried out at the Newtownabbey plant.